A sleigh full of treats to win!
A hamper of goodies so big, it wouldn't fit in a hamper!
This sleigh full of delicious treats is up for grabs in our Christmas raffle - so if you haven't bought your tickets yet, now is the time!
Contact emma@suttonmencap.org.uk or ring 020 8647 8600 for books of tickets to buy yourself, or sell to your friends.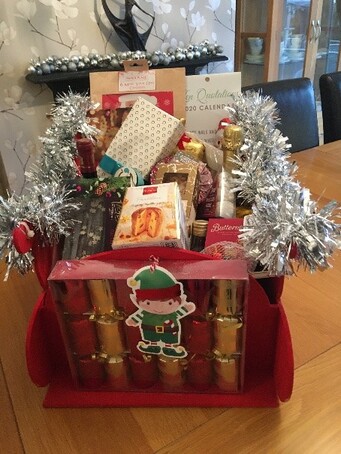 The hamper contains...
Bottle of prosecco
Bottle of red wine
Mince pie fudge
Milk chocolate Florentines
M&S roast potato seasoning
Jar cranberry sauce
Lindt reindeer
Lily O'Brien chocolates
Chocolate santa
M&S Xmas blend coffee
M&S Festive tea
6 mini crackers
Mini panetonne
Chocolate orange
Xmas napkins
M&S sage and onion stuffing
Mulled wine sachets
M&S roast potato seasoning
Chocolate and caramel shortbread
Yule log
M&S festive hot chocolate
M&S coffee
2020 calendar
M&S chocolate parcels
6 make your own crackers
Christmas pudding
Festive word search
Mince pies
Bottle of napoleon brandy
Doddle game